Petro-Canada Lubricants
Petro-Canada was formed in 1975, and in 2009 merged with Suncor Energy to form the 2nd largest company in Canada and 5th largest energy company in North America.
Petro-Canada Lubricants uses the HT Purity Process to transform crude oil into crystal-clear base oils that are 99.9% pure, among the purest in the world. This severe hydrocracking process eliminates the performance-hindering impurities contained in many conventional products.  The result is a range of over 350 lubricants, specialty fluids and greases that deliver outstanding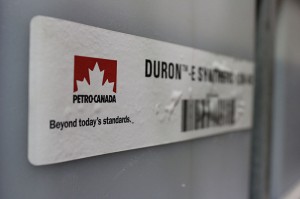 performance.  These innovative lubricants include the DURON ™-E – a first-to-market breakthrough for low emission diesel engines, and PURITY™ FG with MICROL ™ – the first and only antimicrobial preservative currently registered by the U.S. Environmental Protection Agency for use in food grade lubricants, and recognized for its outstanding performance.  Petro-Canada also takes an innovative approach to customer service, developing products specifically designed for specific needs.
Petro-Canada produces over 350 innovative lubricants, specialty fluids and greases that go beyond today's standards. Their products deliver greater purity, durability, multi-functionality and performance, helping their customers in over 70 countries around the world improve their productivity and save money. Call on PetroChoice today to learn more!