So, You Want To Sell Your Business?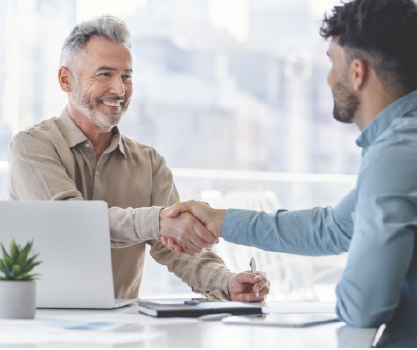 We understand and appreciate the fact that selling your business can be a very personal and difficult decision for you, and in some cases your whole family. PetroChoice has taken necessary steps to ensure that anyone who approaches us regarding a company sale will not be taken advantage of. After all, we recognize that your company has ultimately been a lifelong pursuit providing capital for your retirement and future family generations.
Our approach to giving you a valuation is very transparent, and you will understand what our purchase price is based upon in detail.
Step 1:
Confidentiality
We sign a confidentiality agreement. Your data or the fact that we are having conversations with you is not disclosed within or outside of PetroChoice. Only a few people from our internal acquisition team will have this knowledge.
Step 2:
Calculate Value
We give you a short list of primarily financial information that we need to calculate a fair value for your company. We will explain the calculation methodology with you so that you understand our estimated purchase price. We then provide you with a Letter of Intent confirming that estimated purchase price and giving you a chance to decide whether to move forward with us or not.
Step 3:
Due Diligence
We give you a longer list of information we need you to provide so that we can complete the due diligence.
The purpose of due diligence is to confirm the initial price target and allows us to evaluate a range of factors that may have influence over the total value of the business. In our experience, the initial estimate usually stands, provided the business has not markedly declined in a few short months or doesn't have any material defects that were not previously mentioned by you. During this time an environmental study will be completed, and negotiations surrounding continued employment for the former owner and their employees are finalized with our team*.
Step 4:
Purchase Agreement
With the purchase price confirmed, we then memorialize all the terms of the proposed transaction into a Purchase Agreement, which is negotiated between us.
Step 5:
Sold!
Once the Purchase Agreement is signed, the transaction occurs, and we wire the proceeds. If you have the diligence and financial information readily available, the whole process can take four months or less.
Submit Your Inquiry Today!
*Real estate and ongoing employment for proprietors are topics that always come up. We are flexible on these aspects of the transaction. We may choose to lease or buy the real estate associated with the business depending on your preference. We are also open to ongoing employment of the former owner, a consulting agreement, or a full exit. This discussion about both the owner's preference for employment and a conversation about every single employee in the company occurs during the due diligence timeframe.