Chemicals and Cleaners
PetroChoice is committed to providing you with the best available ancillary products for your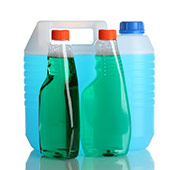 engines and shops, which includes a great offering of chemicals and cleaners. The PetroChoice chemicals and cleaners offering includes everything from antifreeze to window and truck wash, degreasers, and the entire Valvoline VPS suite of products (VPS is only available in certain markets – contact your nearest location for details).
Antifreeze is an important component of your engine's overall performance. We have a variety of brands available including:
Peak
Fleet Charge
Final Charge
Full Force,
Mobil Delvac ELC
Cummins Fleetcool
And More
We also round out our offering with window wash both summer and winter blends.
It's important for your corporate image to keep your fleet clean so we offer truck wash and other shop cleaning products from companies like Ver-Tech Labs and Davies.
The above products are not only for fleets, but can be a part of your service shop offering or
quick lube as well. Please inquire and if you are a Valvoline customer in our Mid-Atlantic region –  you may be a fit for our Valvoline VPS offering.
Fill out the contact form on this page to have a member of the PetroChoice team in your area can contact you regarding any of our chemicals and cleaners.