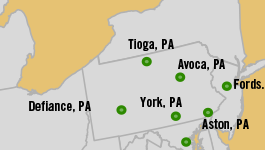 PetroChoice is your premier distributor for lubricants and services throughout Pennsylvania. We have a strong presence in Philadelphia and the entire Tri-State area (PA, NJ & DE) as a whole.  Our Aston, PA facility is located in Delaware County, just minutes from the Delaware border.   Encompassing the metropolitan area of Philadelphia, our eastern region includes such cities as Chester, Media, Radnor, Doylestown, Quakertown and the Levittown.   Let's not forget the Scranton/Wilkes Barre area which headquarters our Mid-Atlantic Division of PetroChoice. Other cities/towns we service in this area are Altoona, the Pocono Region, Allentown and Shamokin. Moving further west along the southern region are Lancaster, York, Harrisburg and many, many more.  As you travel up into the central part of the state and further west, our Defiance office services great cities such as State College, Bedford, Somerset and Pittsburgh.  The most northern cities and towns we serve also happen to be in the Marsalles Shale Region (Gas Drilling). These include: Troy, Towanda, Hughesville, Montrose, New Milford, Tunkhannock and Laceyville just to name a few.  
PetroChoice is the largest distributor of commercial, industrial, and passenger vehicle lubricants in the Mid-Atlantic and Upper Midwest regions of the United States. We carry and distribute the most respected oil and lubricant brands in the industry and have a highly trained team of sales engineers who will take the time to thoroughly understand your business.  We aspire to be your true partner and are always looking for ways to keep your business moving by lowering your total cost of ownership. 
We strive to be good stewards of the environment and remain wholly committed to promoting a safe workplace. For this reason, we're passionate about what we do and give 100% in all of our efforts. Our capabilities include a fully equipped service department that provides sales, installation, parts and service for waste oil heaters, lifts, lubrication equipment, air compressors and piping as well as complete system design and shop layout.
Brands in Pennsylvania
Mobil
Exxon
Medallion Plus
Shell
PennZoil
Quaker State
Valvoline
VPS- Specialty Chemicals
for the Automotive Market
Cam2
Phillips 66
Petro-Canada
Lubriplate
Food Grade Products
Oil, Air and Gas Filters
Chem-Tech
Ultra-Tech
Air1 DEF
RainX Wiper Blades
Clean & Mean Degreaser
Services & Equipment
Clean Burn Waste Oil Heaters
Rotary Lifts
Graco Lubrication Equipment
Samson Lubrication Equipment
Centeron Tank Monitors
Lincoln Equipment
MacroAir Fans
Exhaust Systems
Highland Tank
Oil Analysis
Oil Filtration
Engineering Services
Sales, Installation, Parts
and Cleaning Contracts
OE Programs
Goodwrench
Mopar
Mercedes
Toyota/Lexus
Nissan/Infiniti
Acura/Honda
Volvo/Bull Dog