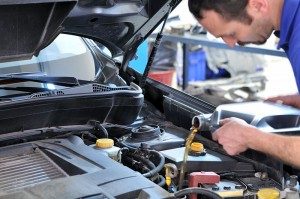 Recalls are an unfortunate part of the automotive industry and a significant portion of them are ignored by consumers, leading to as many as 70 million vehicles with unfixed recalls on the road.
Whether they are initiated by manufacturers or by the National Highway Traffic Safety Association (NHTSA), it is likely that several recalls impacting millions of vehicles will occur each year.  Some are for small fixes and draw little fanfare while others, like the ongoing situation with Takata airbags, become national news.  Regardless of where the recalls come from, many experts have expressed concern over the high rate of unfixed issues.
"It is very difficult, as ownership of vehicles trades hands," Indiana University Professor and Supply Chain Faculty Fellow George Ball, said. "Manufacturers do their best on this through mailings, but the fix rate is lower than it should be. This is something that has significant opportunities for improvement."
Related: Autonomous Vehicles Are Coming, but Won't be Taking Over Anytime Soon
According to a study by the Consumer Federation of America (CFA), as many as 280 million vehicles have been recalled in the past 10 years.  With recall completion rates around 70%, that means as many as 70 million vehicles in need of fixes could still be on the road.
"The fix rates are low because the consumer has very little incentive to bring their car in," Ball said.  "Unless they perceive a personal safety risk, they are unlikely to bring it in."
According to the NHTSA website, manufacturers must notify owners of recalled vehicles by mail within 60 days of deciding to do so.  They must also provide a remedy for that recall, whether it be self-imposed or at the behest of the government.  Ball said dealerships can go a long way in helping get more vehicles fixed, but don't always have the opportunity to do so.
"Dealers can help here by fixing the problem when the car comes in for something scheduled, like an oil change," Ball said. "But many people don't go to dealers for oil changes, opting instead for cheaper options like (quick lubes)."
The costs of these recalls can add up quickly, particularly larger ones.  While they can certainly cut into the bottom line, the cost of a recall isn't always financial.
"Costs range widely because the units affected ranges so widely," Ball said.  "It can range from a few hundred thousand to hundreds of millions. Costs can also be indirect, such as lost future sales or stock price, as well as the direct costs of repair or replacement costs."